Keyfree Winning with
Automation Solutionz

.
As a pioneer in car sharing technology, Keyfree Technologies Inc. has set a new standard in the way consumers are able to interact with vehicles. The sharing economy has created an interesting situation for car rental companies. As such, they're adopting new technologies, which allow their customers to access a fleet of vehicles easier than ever before. Keyfree enables the car rental transition. A clear focus and ongoing innovation has enabled Keyfree to become a global leader in car rental and P2P car sharing technology.
From self-service car rental to corporate fleet and peer-to-peer car sharing, Keyfree is bringing smartphone-centric technology to power the revolution in car sharing.
KeyFree software and hardware are engineered in Waterloo, Ontario, an emerging hub for research and development. With a team of well-balanced and experienced engineers, Keyfree Technologies Inc. is at the forefront of the revolution in car sharing technology.
With a simple in-vehicle installation and monthly plans as low as $9.99 per month, Keyfree will enable the next generation of fleet sharing.
Automation Solutionz is a test automation consultation company, with extensive experience in enterprise software testing. Through its depth of experience in software testing, Automation Solutionz has developed Zeuz.
ZeuZ is an Industry-leading all in one automation and manual test case management framework. ZeuZ features scriptless cloud based automation and debugging, independent of any locally installed software.
Zeuz supports web, mobile, REST, .NET, Windows, Mac/Linux, and 100s of actions for file, logical flow and application management.
Zeuz enables continuous integration testing with any 3rd party build systems such as Jenkins, Hudson, Maven etc..
Zeuz can be integrated with project management tools such as JIRA, GIT, MKS, MQC etc.
Zeuz has built in collaboration (review, discussion and chat), can batch update items, provides Kanban/Board view, and drill down reporting for release management and risk analysis.
Zeuz is a comprehensive framework currently in production across several clients from small to large teams involving robotics, iOT, mobile, cloud and desktop applications.
By bringing our talent pool of highly skilled testers from top university graduates, Automation Solutionz Inc. has been providing expert testing services at costs that truly boost our clients' bottom line, empowering them to rapidly release new features to their satisfied user base.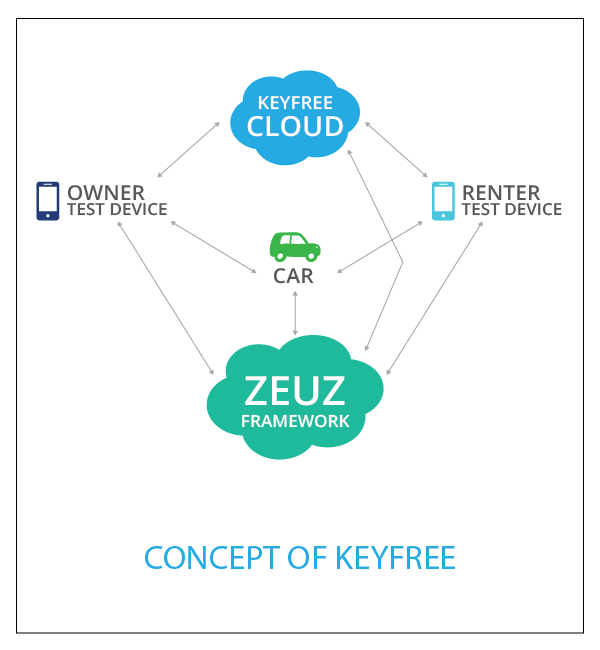 The concept of Keyfree system is that it integrates an easy-to-install Bluetooth device within the vehicle which interacts with a smartphone app on owner's device and cloud-based software by sharing a digital key through the app installed on the renter's device.
KeyFree Technologies Inc. contacted us at its startup stage to manage its entire testing project with a restricted budget. Our team comprising local consultant and offshore automation expert helped design the testing architecture and execution for both end to end and component testing.
Our framework ZeuZ is at the heart of this testing project. With only one full time resource, we created approximately 300 manual test cases in less than 3 months, 18% of which have been automated. We estimate more than 60% of testing to be automated within 6 months of project start date at a total of up to 700 test cases.
The image on the left shows the complexity of the testing aspect of the project. It involved multiple mobile devices (iOS and Android) i.e. owner and renter communicating via cloud bridging various services, and Bluetooth simulated Car.
Quote
In order to automate simultaneous testing of multiple mobile devices, cloud (REST API) along with simulated bluetooth device as shown above, I am convinced that it would have taken an enormous amount of time, cost and resource in achieving measurable results through major competing frameworks like QTP, Renorax, or SmartBear. Automation Solutionz's expert consultancy and local presence truly made it a no-brainer for us unlike any other outsourcing arrangement we ever imagined or had experience of, in the past.
The testimonial above confirms Keyfree's satisfaction and commitment to leveraging our world class testing service.
Automation Solutionz empowers its clients every day enabling them to stay ahead of their competitors by ensuring measurable quality testing of their software.